5/22/2010
What a nice evening to celebrate SCLX's 3rd Birthday. The weather cooperated and the turnout was great. We were welcomed by the crew of Classic's pizza and the pizza feast was in full swing. Thanks to all our great members for coming out to the BDay Bash. We even had the pleasure of seeing some of the founding members from 2007.
As you can see from the pics, everyone had a fun time hanging out seeing old and new members. We recruited a couple of new members as they saw our cars passing by.

This past weekend marks a milestone in SCLX - three tremendous years for this club. I am so thankful for the friendships that have come along the way.

Finally, a special thanks to our membership for the nice surprise recognizing the founding fathers. The plaques were so special to us.

See you out again soon,

Johnny Bee
President
5/5/2010
SCLX turns 3 years old this month. Back in Jan. 07 a few of us on the forums first started talking about formally starting an LX car club in Houston. Several more months pass by and still no SCLX off the ground yet.

Then in May of 2007, 6 Houston area LX owners drove down to Galveston for our first "unofficial" (no club or club name yet for Houston Club) meet and greet. There would have been 7 LX's in attendnace but JohnnyB (SRTBEE) was out of town.

The 6 LX owners were:

Mark: FreebirdSRT
Rob: Stealthsrt8
Tracy: NotYet
Mack: Mack300
Bryan: DeathTrain
Sean: PappaD

We had lunch at Gaido's on the seawall and as a group we started hatching ideas for the Houston Area LX Club. We started thinking up names for the club, Goals for the Club, President, VP, Website, etc.

When JohnnyB got back in town we all met the following weekend at my house and formally launched SpaceCity LX (Houston Area Modern Mopar Owners) and named JohnnyB as President. We worked on the club logo that night that is still the club logo today. The car club has really grown over the past 3 years and the club would not be what it is today without you the members making it the top tier car club that is SCLX.

Thanks again for all the tireless work that JohnnyB and Rob have done as your Pres. and VP. and to see how great a club SCLX has become.

Here is a link to the thread from the very first "unofficial" SCLX meet and greet pictures, in Galveston, with the first 6 LX's from Houston 5/19/2007.

http://www.300cforums.com/forums/texas-forum/38230-pics-our-galveston-cruise.html

Mark
FreebirdSRT

5/1/2010
Thanks to our all the members of SpaceCity LX Modern Mopar who endured the extra warm sunshine at the United Way Budweiser Classic Car Show this past Saturday. It was a great day to see cars of all makes and models and the passionate owners just like us. I'm happy to announce that we are "back to back" winner 2009 and 2010 for the club participation award with 22 participants. It is such a neat thing to see everyone support the club and join forces in attending events like these. We are showing Houston and surrounding areas what the Modern Mopar scene is all about.
Equally exciting was seeing some SCLX members take home SEVERAL 3rd to 1st place trophies in the "Modern Class" 1991-current. When you see several winning trophies among the group like this, to me it's folks (judges,etc) appreciating our vehicles and the efforts put into them.
Of course the day was complete when they announced that everyone's participation was added to an overall $100k of monies donated to United Way. So thank you for supporting a good cause. If you missed this event be sure to make time to check out the website and forum for future "SCLX Events" or "Other Events". They are a great way to meet people and share the excitement we all have with our cars.
All the best,
John "Johnny Bee" Chiboroski
President

4/16 to 4/18/2010
A fun filled SCLX event weekend extravaganza!!!
The title sums up how this weekend shaped up from my eyes.
Chance of rain this weekend
High chance of finally finding Gary – not sure, beginning to think he is avoiding me.
Friday – Central Meet & Greet
We started out Friday night (16th) at the Central Meet and Greet, 40 + cars attended with a number of first timers stopping by, a DFWLX member, as well as some club members we had not seen in awhile. Weather was perfect, no rain, temperature's just right, and Club member enthusiasm – very high. I saw many members getting club stickers installed and getting cards to help support the effort to continually bring new folks and rides into the club.
In my continued effort to find out who this guy named Gary is, I asked around to many – anybody seen Gary? What type of vehicle does he drive? No one seemed to be able to give me a hint; I guess tomorrows Big Event may give me a chance to finally catch up with him (I wish the Prez would give it up – but he is not telling a soul).
By the way – for the gentleman in the Red Chally who came thru the lot a little after 9:30, sorry you missed most of us, wish you would have stopped, and hope to see you next time - Everyone was a little anxious to get home and get ready for the Saturday event.

Saturday – Big Event – Galveston Cruise
Ok, is it going to rain, not sure, guess I will clean the car again, chairs, freshly light starched club shirt, cooler, radio, camera – check, better get going, need to meet up with the caravan and see if I can spot Gary. Time to get going; it's going to be a great day. (OMG I need gas, I am going to be late – heart beating fast)

I met up with the West Side caravan, 17 cars in the group today, walked around and said a quick hello to all (no Gary in the group – must be meeting up with one of the other groups – I expect I will finally see him when we all get together at greyhound park). Trip to the park went well; a few areas of typical Houston traffic were navigated around thanks to Freebird. We arrived at the dog track on time, what a site to see all of the club cars lined up. 70 cars? Maybe more. Ray gathered the group together to welcome everyone and to help organize the move (lots of first timers attending – wonder if one of them is Gary – better ask around). We lined up in groups of about 10 cars each to help navigate traffic and off to the Golden Corral in Galveston for lunch, conversation, and a few photos.
I was lucky enough to be picked to lead the first group out, not so lucky to be the first group to head into Galveston. We were welcome by the local DPS and then by the GPD; when I arrived at Golden Corral I had gone from a group of 10 to 6 arriving. The others stayed behind to visit with the locals – bet there are some good stories to tell there.
Everyone got parked in the GC lot with the help of many support folks (thank you – very organized and made it easy on all of us). Well......in for some lunch, I am hungry, and not to mention a needed pit stop, whoa –just in time!! During lunch while everyone was inside, we were able to get some photos taken by Shelly and Fred from the top of the nearby Hotel, I think they will turn out real good (remind my self – check the photo page in the next few days). I searched around the lunch table and asked again – anyone seen Gary? I was pointed a number of directions, but nope, wasn't him.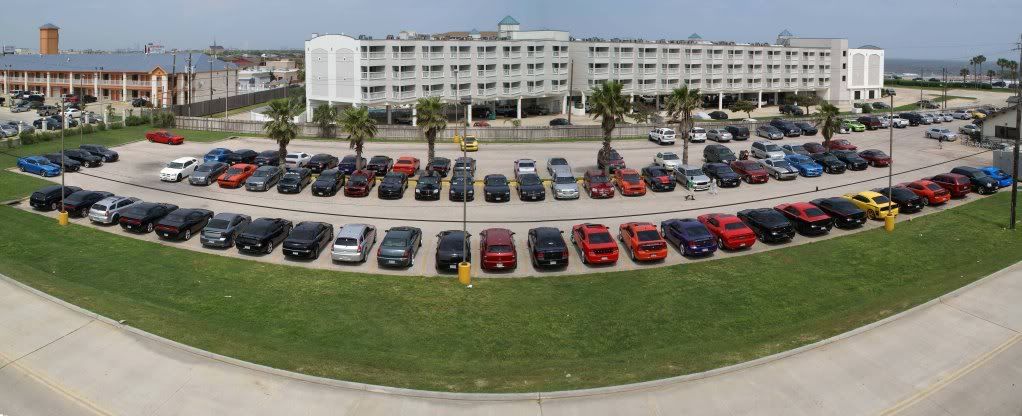 We all finished eating, passed the hat around to see if anyone wanted to tip the fine job that Golden Corral did to accommodate our large group (154 dollars in the hat – thank you all very much, and much thanks from the Manager of GC, I spoke to him for a few minutes and again he said how he enjoyed our club. It is nice to be associated with a respected club).

Well.....back outside for a couple group photos, again Fred and Shelly up to the top of the Comfort Inn to take some shots and video. Now off to Moody Gardens for one last group photo (maybe Gary will be there?).

With the help of a number of club parking attendants, the cars are all lined up and many photos are taken (I am still looking around for Gary). With the luck of Galveston, the local police come by to see what we are up to, Ray heads over to use his Canadian charm to beg for some time to finish up (I wonder if he will ask them if Gary is here?) A really nice time was had in Galveston and the weather was just perfect!!!. Thanks everyone for attending.
Saturday Night – Kemah
We had 37 SCLX cars leave Galveston and stop by Kemah, in true SCLX fashion we were all lined up and were the talk of the meeting. Our AAC Conrad Chapa was strutting his stuff. He will report on the Kemah meet, but guessing the car count was around 100. I walked around looking for Gary – I am about to give up, third event of the weekend and still no show.
Sunday Night – Westside mini meet – Raising Canes
What a fine way to end a perfect weekend, 12 cars and 25 folks made the way thru the rain to enjoy some great chicken and tell many tales of this weekend's adventures – you guessed it, no Gary. I heard Shanell ask Johnny Bee "What's up with that? Who is this Gary? When is he going to show up? Shanell is now on the hunt for Gary as well.
Maybe he has been hanging in one of the other areas. Please keep a look out for him and let me know if there is a sighting (I am starting to wonder about the Prez and VP of Ops- they may be breaking under pressure) LOL.
Thanks everyone for your continued support; I feel very blessed to be part of such a great organization of car enthusiasts. Happy SCLX Motoring!!!!

Jerry Lawson
GR8SRT
Events Planner

"The members make the club; every event is full of fun and a great chance to enjoy conversation and our cars."
4/3/2010
Well, the weather worked in our favor and we had a great time this weekend at Car n Coffee and Kemah. Big thanks to all our members that came out in the early am for the caravans to C n C - we know its early, but its really great when we can all arrive and park together to show the Houston car scene what Modern Mopar is all about ! We were again thanked for our organization and behavior at the event - so kudos to our great members !! We spoke with the organizer and he mentioned that the average car attendance at these last few events has been almost 450 cars !!

If you weren't able to get with us this month, be sure to make plans for an upcoming SCLX event. We are having a great time in 2010 and each event brings a mix of new people, first timers and the "fanatics" ..lol

These are events are for you - our members. We try to make opportunity for folks to get to know each other, make new friendships and enjoy these great vehicles we drive.

A few of us were able to roll out to Kemah as well to close out a great Saturday. Thanks to Conrad Chapa, our South AAC - he met up with a few of us to show us the ropes in Kemah. With the warm weather, the Kemah crowd continues to grow.

See you at the next event !!

Johnny Bee
President
Space City LX Modern Mopar
3/27/2010
I just wanted to write a few notes recapping our Dyno Day. Twenty-eight cars were slated to dyno between 10am - 5pm. ARD Perfomance was our chosen location for our event. Upon arrival we proceeded to set up the interior board with our predetermined schedule. Jay & Owen were eager to start. Thanks to ARD for all the effort put forth. This worked to our advantage, giving us a leg up in the time category.

In the end we were able to stick closely to the schedule, juggling a few late arrivals and fitting in a couple of new members. Squeezed in a SRT4 and a GTO as well. A total of 33 cars went on the dyno.
I think most people were happy with the outcome. A few surprises surfaced plus a few disappointments. All particapants made it extremely easy for me to modify, delay and adjust the schedule as required. What pleased me the most was the turn out and the interest by ALL members in making the event a success. Everyone stayed and spent time building the relationships that the club is built upon.

Thank you from the leadership team and myself for making it easy to pull off another great event.

See you all soon,
Ray Wall
Raygun
Vice President - Events and Logistics

3/19/2010
Even with the LX/LC universe focused on Irvine CA for Spring Fesitval #5, those of us back here in H-Town had a great time at the monthly Central City Wide M/G. We had 40+ cars out last night and saw a record number for "first time event" attendees. Some great pics are shown below as well as in our forum (posted by Carlos).
Before we knew it, 9:30pm rolled around and no one wanted to leave. I didn't end up leaving the event until 10:30pm and there were still people out there talking. It's great to see old members and new members all excited about sharing information and getting ideas.
If you have NEVER made it to a SCLX event, make plans now to attend the next one. We look forward to seeing you all at the March Dyno Day or at the April Cars and Coffee.
Thx,
Rob
Vice President | Operatons and Finance

FreebirdSRT, Raygun, DarthCharger, and MARK will be leaving on Tuesday (3/16) for the 5th Annual Spring Festival in California.  Check the SCLX forum for comments straight from our SCLX reporters.  Don't know what the SF is about?  Check out a little history at LXForums and at the SoCalLX website.
3/6/2010
The weather was good, the SCLX cars were shined, the new parking location is perfect, and the turnout by the Club attendees was upward of 50. To the new SCLX members, the first timers, Houston C&C, and all the members who came out and participated -- thank you, thank you, and thank you!
How could anyone imagine missing such an event? If you did, mark it on your calendars now, as this event should not be missed. You can check out some of the event photos:
Additionally, if you attended the event and have some photo's that can be shared please send them to This e-mail address is being protected from spambots. You need JavaScript enabled to view it and we can get them posted up for all SCLXer's to enjoy.
I requested some feedback on what is most liked about the C&C event to help those who could not attend get a better feel of what to expect. Here is some of that feedback:
Long line to get a coffee – LOL

I like the fact we have club leadership and direction without having firm rules and regulations...we have guys and girls, mums and dads, children and grandchildren that turn up and catch up with friends.

The green 440 'cuda was my favorite car on the scene!

Love how everyone is gathering around my car (ego, ego, ego)
I really like how our group is growing and respected in the community of car enthusiasts around the area. My Father-in-Law who joined me at the event enjoyed chatting with you all as well, and he was blown away at the variety and volume of cars out there

I love the Chevy Nova tricked up for the quarter mile. It sounds wicked and the tubbed rear end just looks so darn good. The Rolls Royce was at the other extreme and was just as exciting.

First time I have ever seen a line forming to get cupcakes.

Cars, cars, and more cars, how could you not like this?

The club is so full of enthusiasm at all levels, SCLX is on a roll for 2010, glad to be part of it.
Happy Modern Mopar SCLX Motoring; see you on the road or at the next event (see our calendar for full details) !!!
Jerry Lawson
GR8SRT
Events Planner

"The members make the club; every event is full of fun and a great chance to enjoy our cars."
2/27/2010
Hello SCLXers and thanks to everyone that came out on Saturday and made the mod meet a success. Big thanks again to Dr. Al and Maddie for hosting and all the members who participated.
We had great weather, good food, and filled up the streets around Dr. Al's house with Mopars. Carlos took some great pictures that he posted on the forum and just about everyone got their mod done and drove away with a revamped ride, even if it took three attempts to install (haha). There were plenty of people who weren't modding and gave their moral support. It was a great chance to put a face with the forum name or just swap war stories of past mod meets or completed track times - and the SCLX cupcakes weren't bad either, thanks Melissa.
I would like to personally send out a thanks to everyone for their help (Cibalo you da man) and welcome all the first timers that were able to attend. I wish I could've socialized more but if you saw my two year old son running around you saw how busy I was. This was a great way to keep 2010 rolling and let's try and represent in a big way at the Coffee and Cars this month. Thanks everyone and drive safe!
Bill Orsak (BSAK)
Westside Associate AC
2006 Chrysler 300C SRT8
«
Start
Prev
41
42
43
44
Next
End
»
Page 42 of 44